There were at least six casks of Glenturret distilled in 1977 bottled in 2012 at 34 years old by four different independent bottlers. I find that remarkable. The consensus was that there was a "pallet" - whatever that is. I've noticed this kind of thing before. For example all of a sudden there are 3 different meteorite apocalypse movies in one year. The next year there are multiple volcano apocalypse movies - in the same year. Zeitgeist? More likely competition or cooperation among rivals. That doesn't explain a whole bunch of whisky of identical vintage - somehow being bottled at the same time. The story we are told is that casks are aged and periodically tasted until someone very knowledgeable about whisky determines that it's ready. It sounds like a pretty approximate decision: is it getting over oaked? Can it be pushed further? What are the odds that 34 years in, at least 4 different whisky professionals spontaneously decide to bottle their separate independent casks at the same time? Yet that's supposedly what happened.
Four separate bottlings alone were reviewed by Reuben of Whiskynotes: Maltbarn (48.4%), Malts of Scotland (47.4%), Whisky Agency (46.7%), as well as the Master of Malt bottling (47.9%):
http://www.whiskynotes.be/category/glenturret/
(spoiler alert - he likes them all and gives them all 90s and 91s).
There were also two casks of 1977 Glenturret bottled in the same years by Berry Brother's Rudd (Cask #1 at 46% and cask #2 at 47.6%):
http://www.masterofmalt.com/whiskies/glenturret/glenturret-34-year-old-cask-1-berry-bros-and-rudd-whisky/
Cask #2 of the BBR version was reviewed by Oliver Klimek:
http://www.dramming.com/2013/05/29/glenturret-34-yo-berry-bros/
(he gave it an 86 - but he's notoriously tough).
Berry Brothers also bottled another cask of 1977 Glenturret the following year as a 35 year old at 46%:
http://www.thewhiskyexchange.com/P-20981.aspx
I presume that "pallet" means that a single independent bottler owns and ages a bunch of barrels of the same vintage and then, rather than produce 6 different single barrel offerings, chooses to sell a number of them to other independent bottlers. If you have any specific information about this practice, please let me know.
Glenturret, by the way, is the distillery expression at the heart of The Famous Grouse. Because of this, the Edrington Group runs
The Grouse Experience
there. Glenturret is well known as a sweet and lively Highland dram with some acid bite that typically reads of peaches, apricots, or oranges combined with a creamy quality. Single malt expressions are offered by Gordon and MacPhail - particularly a MacPhail's brown label 11 year old which I've had the good fortune to pour and taste many times (review to follow).
Glenturret is particularly famous for its distillery cat Towser. I'll let the epitaph on her monument do the talking: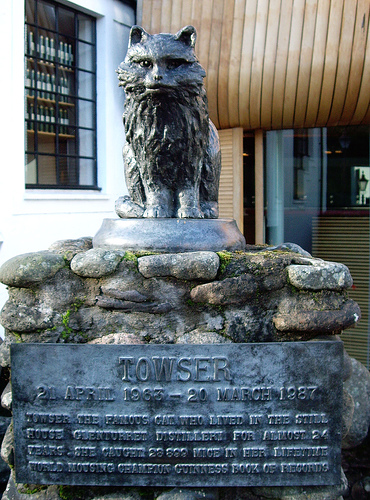 TOWSER
Glenturret Distillery, Crieff, Scotland 21 April 1963 - 20 March 1987
"Towser the famous cat who lived in the still house Glenturret Distillery for almost 24 years. She caught 28,899 mice in her lifetime. World Mousing Champion. Guinness Book of Records"
That's a very good kitty! As for the 1977 vintage Glenturret whisky: after 34 years in oak, a lot of maturation effects should be in evidence. The one that really excites me in very mature whisky is esterification. Acids and alcohols combine to form chemical compounds called esters which give additional fruity notes. Consumption of acids lowers the pH of maturing whisky as well. Angel's share evaporation further concentrates the sugars and flavor compounds that remain. Oak influence and chemicals from the oak, including flavorful lactones, tannins and lignans infuse the whisky. With hyper mature whisky you get all these maturation effects in greater abundance. The question - as always - is balance. Is this Master of Malt bottling a good kitty? It's hardly news that it is.
Glenturret 34 year old 47.9% abv.
Master of Malt Single Cask bottle #3 of 247. Distilled 28 October, 1977. Bottled May 2012. Refill Sherry Hogshead. Non chill filtered.
Color: Full Gold
Nose: Rich estery malt: honey comb, ripe melon, paraffin wax, ambergris, tangerine, bourbon-like peach compote, mineral dust, and, deep within, some musky sex smells. Basically - an orgy in a candle shop.
Palate: Intensely sweet and fruity opening with honey drenched over-ripe apricots, tangellos and mangosteen. Then a big broad mouth filling expansion with malt cakes in cream, tart citrus rind, overripe melon, paraffin, ambergris, and roobios tea. The turn to the finish brings old oak tannic bitterness - but just a hint. It's surprisingly light on oak for such as old dram. The finish is malty and gentle and of moderate length - perhaps surprising it isn't longer given how intense the earlier phases were.
Whiskies like this tend to be swimmers. A half a teaspoon of water enhances the spiciness - but but doesn't take the sweetness higher until substantial time is allowed for integration. When it happens it integrates the added spiciness with the creamy citrus estery wax honey show. It's pretty stunning. But, the achilles heel is the tartness can trend into bitterness in the finish. You must experiment with water with this whisky - but it's not a grand slam winner over neat. It's a bit deceptive in this regard.
It's a magnificent whisky overall - although you could nitpick that it's a little bit tart, the finish is a tad short, and it doesn't fully open with water. But that doesn't detract enough from its considerable strengths to make me take any stars away.
*****
Enjoy these old glut whiskies while you can. The hot market is sucking them down quickly. This is the topic of a rare diversion from tasting notes on Reuben's whiskynotes - a very thought provoking article you should check out concerning the end of the era of affordable hyper mature glut whisky:
http://www.whiskynotes.be/2013/whisky-news/whisky-is-dying/